Mobile Disinfection Gate
Mobile Disinfection Gate DESTORmobil500. Decontamination by means of a mobile vehicle lock.
The mobile quick-fit gate impresses with highest quality.
In order to prevent the spread of animal diseases, the fully automatic disinfection lock is set up on an outbreak farm by 2 persons within 20 minutes and works without manpower and with safe dosing.
Thus, the disinfection arch can be used as a rapid biosecurity measure on the farm in the event of an animal disease, or to prevent the spread of pathogens from flaying houses, wild game collection points or slaughterhouses.
The decontamination of vehicles and equipment has become an essential part of safety in recent years. In order to meet the requirements of fire brigades and technical relief organisations it is important to have appropriate equipment available. These primarily include components that can be used and operated in a short period of time by a small number of emergency personnel, regardless of the location. This is another field of application for the mobile decontamination lock, based on the G-decon concepts of fire brigades (Decon F).
Safe disinfection by means of fully-automatic operation.
The vehicle lock runs constantly with a reliable predetermined concentration of the disinfectant. The three-dimensional spraying nozzles are not susceptible to wind and guarantee a spread rate of 0.4 litres per square metre at a passage speed of 2.4 km/h. The offset arranged nozzles in the archway moisten the vehicle from above and from all sides. Full-surface wetting is guaranteed for all vehicle sizes and passenger cars, even with trailers. The powerful nozzles in the floor ramp ensure good underbody, tyre and wheel case cleaning.
As soon as the vehicle approaches the disinfection arch, the high-efficiency sensors are activated and the nozzles immediately distribute the disinfectant at full pressure, even in front of the driver's cab and behind the rear.
Quick assembly due to lightweight construction.
The transit gate is constructed as a modular lightweight system so that two persons can set up the complete disinfection lock in 20 minutes. All accessories are available and stored in sturdy transport boxes. The personnel do not need special training and can set up the gate on a mobile collection pan or an existing tray.
The spray arch consists of square tubes made of aluminium with an internal nozzle line. The pipes are first connected to each other on the floor and can be folded. They are attached to two brackets that are weighted down by filled barrels. The arch can be effortlessly pulled up by hand with a swivelling device.
The drive-over ramp consists of two floor traverses with an internal nozzle line and rubber feet that are placed beneath the disinfection arch. The sensors are then installed and all interconnections between components and storage container are established by simple couplings. The concentration of the disinfectant solution is set on the control unit and the drive-through lock works completely independently.
Performance in detail:
Square tube frames made of 100 mm aluminium have an internal nozzle string, light and stable, use of storm nozzles.
One aluminium hinged foot on each side serves to secure the arch and has a mounting bracket for a barrel to be filled for loading making the disinfection gate wind resistant.
The sensor system for the passage is attached to a quick-plug holder on the gate. It has an adjustment option and passage control for drive-through in one or both directions.
Constantly high pressure on the nozzles is generated by a multistage stainless steel centrifugal pump with 200 l/min.
The exact dosing of the disinfectant solution is carried out by a stepper motor pump with a setting range of 0.01 - 15 %, batches or time-dependent dosing can also be set. Water consumption is recorded on SD card.
The mixed solution is collected in a 1000 l intermediate buffer, the built-in floater triggers the automatic refill function.
Worldwide shipping
Our disinfection gates are used worldwide. In the Asian region, we ship by sea freight, e.g. to countries currently affected by the ASP epidemic, such as Cambodia or Thailand. There, the decontamination locks for trucks are mainly used in agricultural operations for pigs and poultry farms.
But the disinfection sheets are also used in Europe, e.g. in Greece, Poland or for the Luxembourg army to ward off epidemics.
The mobile version of the disinfection gate is already ideally prepared for export in a compact transport chassis.
The stationary truck locks can be safely shipped in a bundle of pipes and a Euro pallet.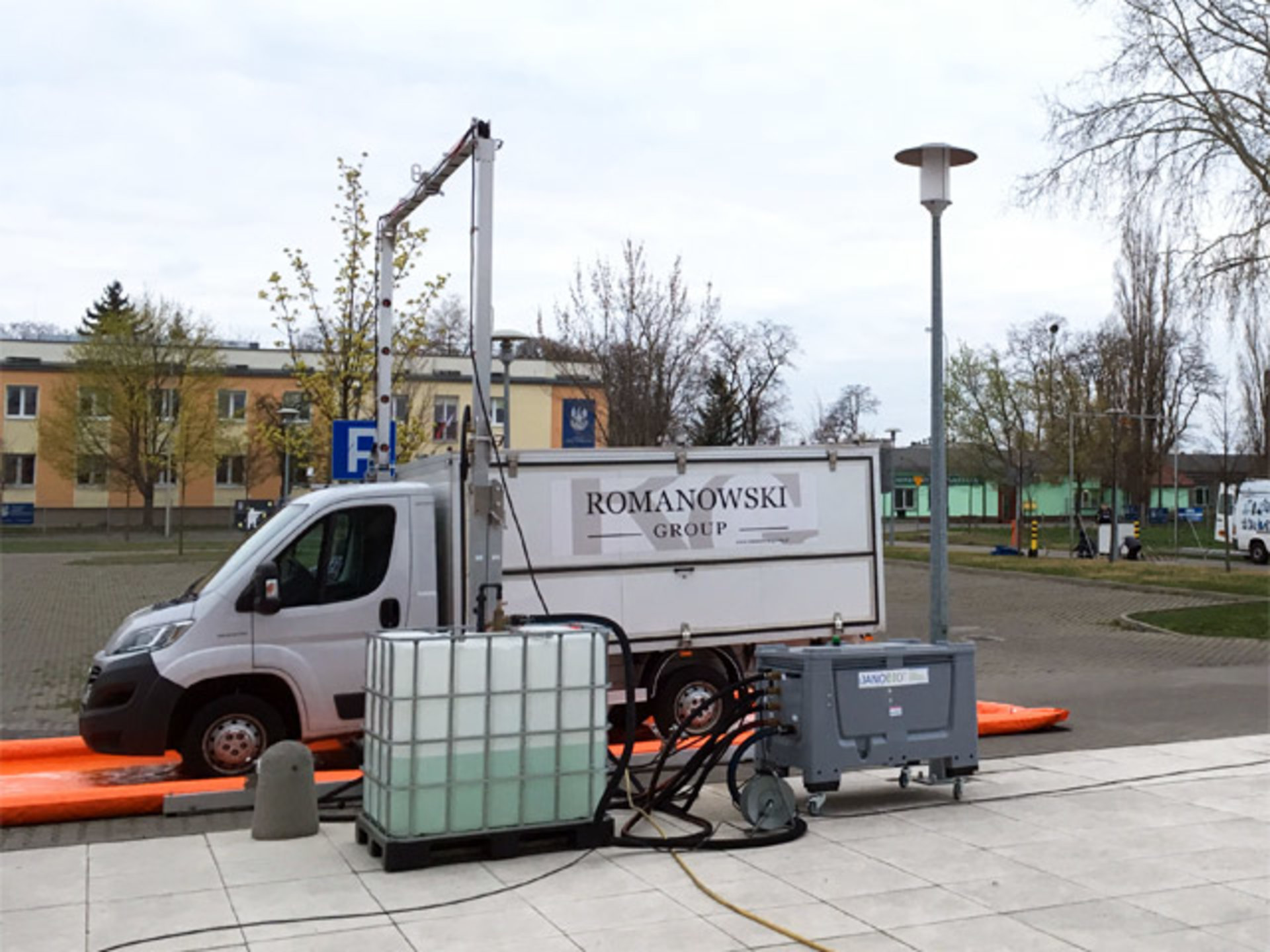 DESTORmobil500 - Transportcontainer
Transport container for safe storage of the stainless steel centrifugal pump, control and metering unit as well as drive-through sensors.

DESTORmobil500 – Lightweight construction
Transport container for square tubes with nozzle line, drum console, floor traverse and connecting materials.

DESTORmobil500 – Storage tank
1000 litre capacity for mixed solution with floater-controlled automatic refill, all connections available.

DESTORmobil500 – Underbody disinfection
Underbody disinfection with nozzle line in a two-part drive-over ramp over a width of 3.15 m. Safe decontamination of tyres and wheel housings.

DESTORmobil500 – High-efficiency sensors
Equipped with the high-efficiency sensors, the system switches on fully automatically and on time and therefore ensures complete spraying of the truck from all sides.

DESTORmobil500 - Sensor drive-through control
Programmable sensor circuit for passing through the disinfection lock in one or both directions.
Technical Data
| | |
| --- | --- |
| Spray arch | Aluminium profile construction with barrel weighting and unfolding function, internal nozzle line with immediate stop nozzles, 3.11 m wide floor traverse with recessed nozzles, drive-through dimensions 4,02 x 3,74 x 4.58 m (l x w x h), outer dimensions 4,02 x 5,28 x 4.77 m (l x w x h), transport container 1.38 x 1.10 x 1.50 m (l x w x h) |
| Pump and control unit | High performance chemical centrifugal pump 200 l/min, 230V/50Hz, 1.85 kW, hoses and couplings, electronic injection doser with stepper motor pump: flow rate 10-2,500 l/h, dosing 0.01-15 %, max. 30 l/h, batch and time dosing function, documentation option, dimensions box 0.80 x 1.35 x 1.05 m (l x w x h) |
| Solvent storage tank | 1000 l plastic container with forklift attachment, suction basket and ventilation device, floater control, dimensions tank 1.20 x 1.00 x 1.50 m (l x w x h) |
| | |
| | |
| | |
More information
Service & Product inquiry
Would you like information material or a non-binding offer? We are looking forward to your inquiry!